Get link

Facebook

Twitter

Pinterest

Email

Other Apps


To encourage creative expression within a guided project can be a challenge for us art teachers. With my fifth graders, I find they're at an interesting point in their creative expression. They can be very good at consciously synthesizing their observations on another artist's work with their own ideas. I chose to tackle the work Jean-Michel Basquiat with my fifth graders this past school year and really work with them on the idea of art as emotional expression.
He's an artist I've always wanted to delve into with my elementary students, but had shied away from in the past. I think Basquiat's work can be very accessible to young artists, but there are certainly elements of his life that are better suited to discuss with older elementary students or middle school age students. The work is both simple and complex and of course, rich in personal meaning to the artist.
Thinking about how to get into Basquiat's work with my students had me mulling over how to create a lesson from this artist's work with real and lasting meaning. I've found it easy to say, 'Art helps you express your feelings!'. However, designing a lesson that guides students through the process of making a piece focused on personal expression is more challenging.
My goals were:
A class discussion on Art as expression. (whew! That's a heavy one! Maybe we'll just dip our toes into that.)

For students to be able to identify and discuss the style of Basquiat's art

To recognize other influences in Basquiat's art and the overall idea that art can be inspired by many sources high and low. (Picasso, graffiti)

For student-artists to create and utilize their own personal symbols in their artwork

To create art as an expression of feeling or what student-artists feel is their place in the world

To use color and line in a style that points back to Basquiat's artworks
I had seen the results of a lesson from Don Masse on Basquiat via Instagram a few months earlier. So I went in search of more info on his approach. You can find his blog post on Basquiat inspired chalk pastel drawings with second graders right here: http://www.shinebritezamorano.com/2018/01/making-meaning-with-jean-michel.html
And talk about one artist being inspired by another! Or in this case teacher… his lesson info was a great jumping off point for me. Thank you, Don! Please take a moment to hop over to shinebritezamorano and follow him on instagram, @shinebritezamorano. In fact, I decided not to reinvent the wheel and use the same essential question and Basquiat artworks as discussion pieces for an introduction to the artist.
I created a google slides presentation where my essential question was the first thing students would see when they came in the room.
Does Art always have to be pretty?
And the follow up question- if it's not nice to look at, then why are artists making it?
The students all know to say, no, art doesn't have to be pretty, but the discussion you can get out of fifth graders past that point is very interesting. I want to mention here that this past year I was teaching an interim position at a small title 1 school. Many of the students (as can be true in any school) had challenging home lives past and present. So it was important to me to introduce an artist like Basquiat, who had many struggles throughout his young life and used his art as the ultimate method of expression. To guide my students through the idea that they could use art this same way, as an expression of not only the beautiful parts of their life, but the ugly parts as well, is my honor as an educator.
Students saw photos of the artist at work and learned a little about his life on this first day. I save more on that for a later class. As we examined the three paintings for discussion, we looked for
Overlapping
Expressive line
Figures
Repeating images between the artworks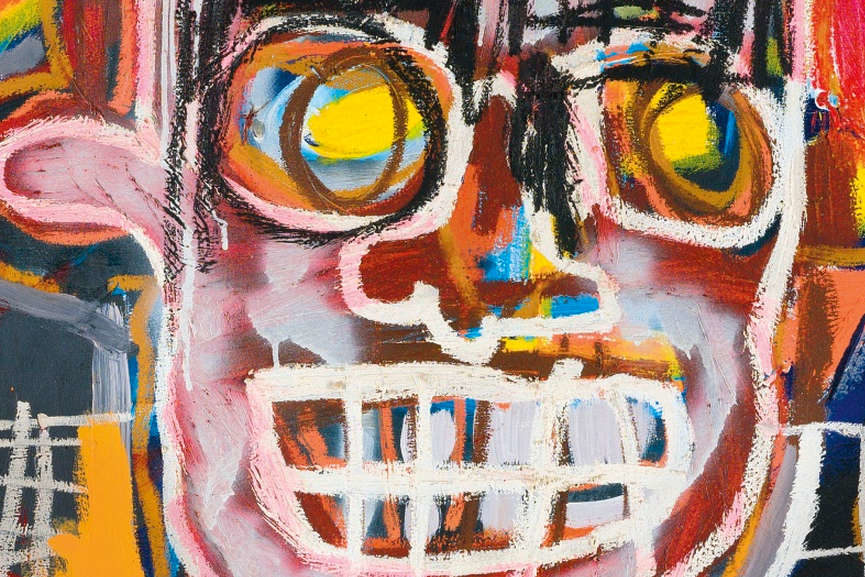 Once we identified repeating images we talked about the idea of a symbol or motif. Students had interesting ideas about Basquiat's images and loved hearing what art historians think about the meaning of some prominent symbols, like the crown. The use of text and Basquiat's own love of poetry also enters our classroom discussion.
After all this discussion (yes, this takes up a large part of class 1), we draw! Students have the idea of motif at the forefront of their minds when I hand out a paper I created with a grid of categories. Students are asked to create a little drawing or doodle for each category. We try to focus on just getting the idea down and not worrying about perfectly drawn pictures. At the bottom of this grid, students must fill in three lines with words that describe them.
About your family
About your heritage
Favorite animals or pets
Foods you love
A job you might like to have
Music (genre or artist)
A place you love to visit
An injury or accident
hobbies/sports/clubs
My google slides presentation shows students how some of these symbols will be used in print and then hand colored. Students begin to get an idea where we are headed with our process!
That's the end of part one of the Basquiat monoprint lesson. This was such a long post filled with so many things to talk about with the students that I decided to split it up into two parts, check back for the next part soon!
Get link

Facebook

Twitter

Pinterest

Email

Other Apps